The kitchen lives in an English Tudor-style, solid brick home with timber floors and, prior to this stunning renovation, was a small, galley-style, dark timber kitchen which was punctuated at either end by dark brick archways. In renovating the kitchen, the owners hoped to create a more cohesive kitchen with increased storage and better flow through into the dining area.
In addition, it was crucial to create easy access through to the utility area and bathroom with the inclusion of more practical and useful storage in these areas.
The result is a gracious, country manor-style kitchen featuring nickel tapware from the English Tapware Company, pendant lights from Schots, wicker baskets, European Pewter shell grip handles, Shaker style doors and Federation capping was created in keeping with the English Tudor style home. To maximise any natural light all surfaces are light in colour and include cabinetry in Dulux 'Antique White USA', Quantum Quartz 'Honeycomb' benchtops and splashbacks in a handmade Devonshire glazed tile in 'Cream' from Bespoke Tiles.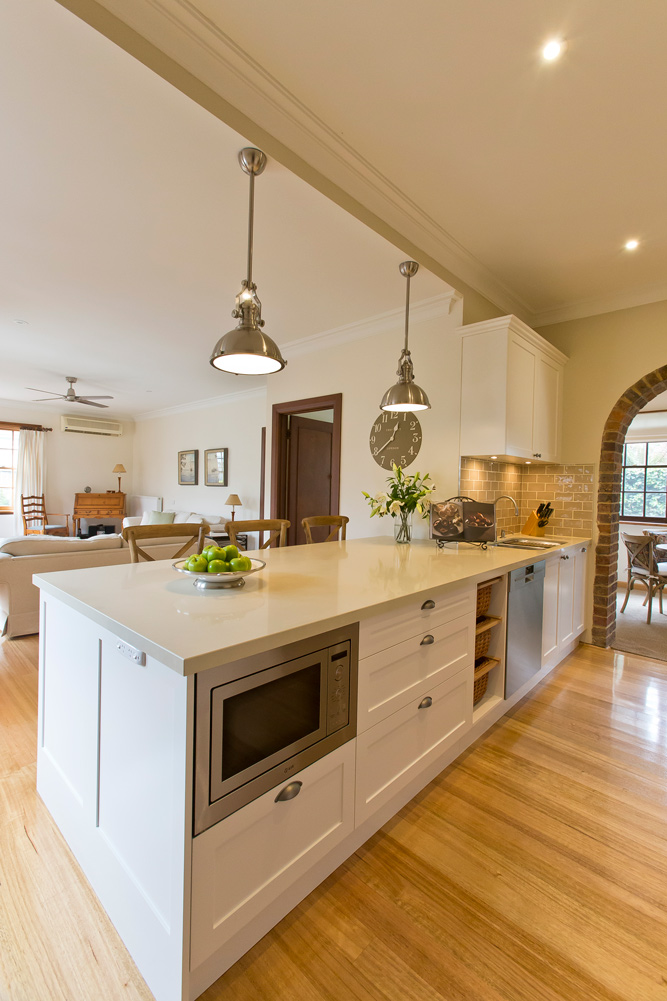 To solve the traffic flow challenges and create a more family-friendly space, a doorway was created between the reading room and the vestibule at the end of the kitchen to ensure better access to the formal dining room from the front of the house without using the kitchen as a thoroughfare. The wall and archway between the kitchen and the vestibule were removed, and shallow full-height cabinetry installed on the end wall.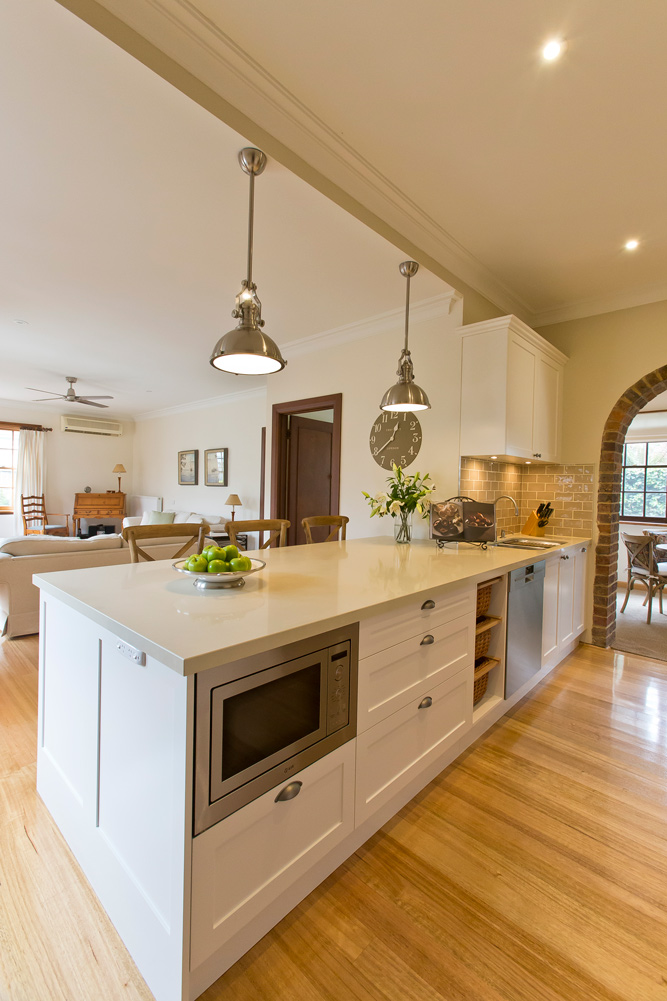 The installation of peninsula storage on both the front and rear gave increased accessible storage and also provided casual seating in close proximity to the kitchen where the family can gather during food preparation without excluding the client. The other wall to this vestibule was removed opening the whole area up and increasing the size of the family room and providing ease of access to the family room, laundry, utility room and bathroom beyond.
Considerable task lighting was added in the form of well-placed LED down lighting as well as superb feature period style glazed metal pendant lights.